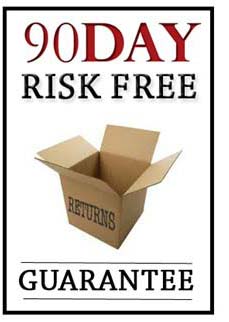 Should you for any reason be unhappy with your Eternity Rose purchase, it is possible to return it as long as no more than 90 days have passed since the invoice date, to receive a complete refund.
This procedure is easy.
1. Send us an email to advise of your intention to return your purchase
2. Simply mail your product back to us together with its original invoice.
3. Keep a copy of your tracking number for the parcel you have posted back to us
4. After we have received and processed your package, you will receive a full refund.
Please note, you will be responsible for the cost of return shipping.
Click here to read about the Satisfaction Guarantee.
We also have our Lifetime Warranty which we offer on all of our jewellery and roses. If you have a problem with your purchase, please let us know about your problem before you return the product to us as this will help us to resolve any issues with you.
Sometimes you may have an issue that is not covered by our warranty. For example, The Eternity Rose warranty cannot cover any metal tarnishing as it is considered to be normal when metals such as silver tarnish. To restore its lustre, all that is required is cleaning on a regular basis. Additionally, The Eternity Rose warranty cannot cover any products which have been obviously damaged as a result of mishandling. Finally, an item which has been damaged as the result of corrosion due to exposure to acidic chemicals cannot be covered under the warranty policy.
You should note that none of our products have previously failed due to a manufacturing fault during the period of warranty, but if you experience any issue, you should contact our customer service team immediately.
Frequently Asked Questions
Is it possible to exchange a product for one in another colour?
So long as the exchange takes place within our 90-Day satisfaction guarantee period, it is possible for a customer to exchange their chosen product for any reason. It is important to note however that we may apply a restocking cost should the product have been damaged by the buyer.
How do I return an item?
Just send us an email telling us you wish to return your purchase and the reason behind the return. Include all relevant information including your invoice number together with your date of purchase. Please note that we do not reimburse our customers the price of shipping costs and therefore customers must cover all shipping costs themselves.
Send all returned items to:
The Eternity Rose
Suite 6692, Level 1
6 Johnsonville Rd
Johnsonville
Wellington 6037
New Zealand
What procedures should I follow if my item was damaged while in transit?
The first thing that you should do is to contact us immediately. Photograph the damage to the item and send us the image by email. You should then return us the product in its original packaging and when we receive the item, we will offer either a refund or a replacement depending on your preference.
Does the customer need to pay the costs of return shipping?
The customer must pay all costs for return shipping.
How long will it take to process my warranty claim?
We always strive to process claims immediately upon receiving them, however in certain circumstances, we will be unable to process your claim until the following working day. Sometimes however, there are certain circumstances in which we may require a longer amount of time to process your claim. Should you have any questions regarding the timescale involved, send us an email to ask about our process.
If a replacement item is sent out to a customer, who bears the shipping cost?
The Eternity Rose undertakes to pay all of the shipping costs linked to sending a replacement item to the customer.
What will happen if a customer sends a product back because they have changed their mind, and it is subsequently damaged during shipping?
Should a product be damaged during shipping, The Eternity Rose acknowledges that the damage is no fault of the customer's and therefore they will still provide a refund or replacement according to the wishes of the customer.