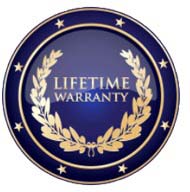 Here at The Eternity Rose, we are always striving to offer a service that is a cut above, and to that end, our efforts begin with our warranty.
We always weight the greatest priority to customer service, with our primary goal being to resolve any issues should you discover a fault in any product that we have supplied to you.
We also offer all of our customers our Satisfaction Guarantee. Should you be dissatisfied, you can return any product to us within a 90-Day period and receive either a refund or a replacement without any questions asked.
Additionally, we offer our Lifetime Failure Warranty which has been designed to protect our customers should any purchased item fail during everyday use.
There are exceptions to this warranty, including:
1. Should the product have been exposed to acidic chemicals, causing corrosion
2. Any product that has been obviously dropped, broken or bent
3. Tarnishing which could reasonably be expected of any precious metal like platinum, silver or gold
Apart from these exceptions, we will happily supply you with a Lifetime Warranty on your purchase.
Our products will last indefinitely as long as you display them safely without exposing them to specific elements. Remember that some tarnishing is considered to be normal, however it is possible to minimise this by using a metal cleaner occasionally. In general, this should not be required more frequently than on a once 5-yearly basis. When polishing one of our items, you can apply the amount of pressure that you would be to a wine glass, using a standard polishing cloth.
You should also note that items like golf balls, tees and poker cards which are used physically will not be covered by our Lifetime Warranty since extra wear and tear can be expected in these instances.
You can rest assured, however, that if you need to make a valid warranty claim on your purchase, it will be handled urgently so that we can rectify the situation at high speed.
Should you wish to return a purchase, click here to learn more about the return procedures.
If you require any further information, refer to our Terms and Conditions.