Details
• Every product is created from a genuine natural rose which was picked at its peak of perfection
• The rose is 24 karat gold-dipped (karat is a measure of the purity of gold whereas a carat measures the weight of jewellery)
• Every rose is presented in its own leather display case
• An iconic and enduring romantic symbol
• Every rose is a one-of-a-kind artwork with its own high quality lustrous finish
• The length of each rose measures around 11.5".
• Weighty and robust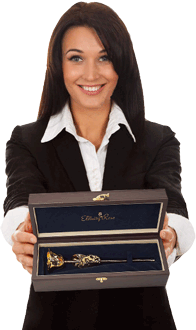 The rose is one of the best-known love symbols in the world, with its virtues extolled in literature and art for generations thanks to its natural beauty. There is no other such iconic token of romance and passion, and the rose's power is exponentially increased when it has been coated with a quality precious metal and given to someone special in your life to stand testament to your enduring adoration. Anyone who receives a flawless Eternity Rose is sure to be delighted when they receive this meaningful and lasting gift.
Whether given for an anniversary, Valentine's Day, Mother's Day or a birthday, an Eternity Rose, dipped in gold, is sure to be cherished by any woman. The perfect alternative to a generic gift for a golden wedding anniversary, it is also a wonderful way of showing a special couple who have shared a half century of married life just how important they are. The spectacular 24K gold-dipped rose is the perfect blend of luxurious gold and beautiful nature.
If your family or friends are about to celebrate their 25th wedding anniversary, why not consider presenting them with a gorgeous Silver-Dipped Eternity Rose?
A single long-stemmed rose has been recognised for generations as the strongest expression of true love, and there are few things which express the heart's deepest sentiments as well as a beautiful rose blossom. The Eternity Rose takes this iconic love symbol, transforming it into a work of art that will endure forever.
Every single one of our Eternity Roses is cultivated and grown in our very own nursery, cared for by talented and highly experienced horticulturists. Each blossom is chosen especially for its unique beauty and no expense has been spared in choosing only the best flowers. Each bloom is plucked at the moment it begins to open before being preserved in fine gold at its apex of beauty.
Each flower goes through an involved sixty-step procedure which results in the creation of a dazzling piece of art. For many years, The Eternity Rose has developed and honed its procedures and techniques, and no competitor can produce a flower that can match the flawlessness of our roses.
We use an immersion electroforming process to produce our roses using our unique patented formula which first adds a base coat of pure copper to the rose's petals to preserve its natural structure, while forming a perfect base on which to apply the coating of precious metal.
A layer of nickel is then applied to improve its strength, and at each step of the process, the rose is subjected to stringent quality control tests to ensure that it remains flawless. It is only after we are finally convinced that the rose is truly perfect that we allow it to go through to its final stage – the gold-dipping process.
The process to produce a completed Eternity Rose takes several weeks, as the thin layers are added individually until its lustrous signature finish has been finally
achieved.
After 3 months, the finished product is an impressive gift which will look beautiful for a lifetime thanks to its radiant mirror finish. Although natural roses will wither and die, a golden Eternity Rose will endure for centuries without ever deteriorating or tarnishing with time. It therefore makes a magnificent memento for display in the home.
Show your undying love by presenting that someone special with a stunning gold-dipped Eternity Rose.