Details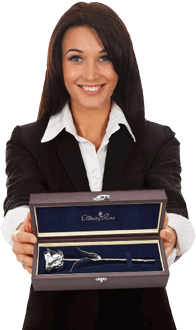 • Made from a true natural rose which has been picked at its height of splendour before being dipped in pure silver
• The process of silver-dipping involves 60 complex stages
• A stylish leather display case with a blue velvet interior comes supplied
• The rose boasts a mirror-like lustrous finish
• Its length measures approx. 11.5"
• Weighty and robust
• Every rose is unique and an exclusive artwork
• The ideal gift to celebrate a silver anniversary
Around the world, there is no more iconic symbol of love and beauty than the rose. Silver, too, is acknowledged to be an ultimate expression of luxury and wealth, and now these two elements have been brought together by The Eternity Rose to produce a spectacular gift which captures the true essence of magnificence in this fantastic piece of art.
Our elegant rose, dipped in silver, is sure to delight all women, and will be cherished forever thanks to its great significance.
If you need to find an enduring memento to give to someone special in your life, The Eternity Rose represents the ideal solution. The perfect gift to commemorate any occasion, from a birthday or anniversary to Valentine's Day or Mother's Day, there can be no finer way of showing your loved one just how much you love and appreciate her.
The silver Eternity Rose can also be given to any special couple celebrating their 25th wedding anniversary, and makes an ideal gift for your wife to mark this milestone occasion.
The beautiful Eternity Rose was inspired by a combination of the luxury of silver with that iconic token of passionate love, the rose. The result is a one-of-a-kind artwork that is immortalised forever.
Each Eternity Rose is made using a genuine rose blossom which has been picked by hand once it has reached perfection. Our skilled horticulturists tend the flowers, and as soon as the buds have opened to the perfect size, they pluck them ready to start the process of preservation which turns them into a glorious work of art.
The process of silver dipping the rose comprises 60 steps, adding individual layers one at a time through electroplating until the artwork is complete. A copper base layer is applied first to protect the intricate structure of the flower, rendering the surface texture-sensitive while creating the perfect foundation for precious metal coating.
After this layer is complete, nickel is then applied in order to strengthen the structure of the flower and to prepare it for its final silver dipping stage.
At every step, each rose is screened and subjected to rigorous testing to guarantee that there is no imperfection. Only the flowers which are completely flawless will go on to be dipped in silver. After finally passing through quality control, the process of silver-plating begins, taking several weeks until a gorgeous mirror finish is achieved.
When the radiant and brilliant rose is laid in its leather case with its dark-blue velvet lining, it is shown off to its best advantage. Its striking and magnificent appearance ensures that our silver-dipped rose will never fail to amaze and impress its recipient.
While the process to produce one of our Eternity Roses takes three months, you can rest assured that it is worth waiting for. Giving this work of art to a loved one to mark a milestone occasion in their life is a wonderful way to convey your appreciation, esteem and love.
There is also no better way of commemorating the silver wedding anniversary than to give a stunning Eternity Rose dipped in pure silver.
Show your devotion for someone special today and give her a gorgeous Eternity Rose. Your love will last forever, and what finer way to show that sentiment than by presenting her with a lasting token – an Eternity Rose?
And if you are looking for the perfect 20th wedding anniversary gift, don't look past the glorious Platinum-Dipped Eternity Rose.