Details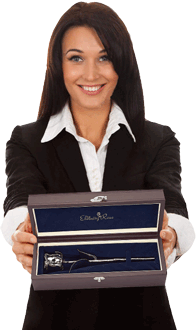 • Every rose is cultivated within our own nurseries, with each flower picked at its peak of perfection
• The fresh blossom is then dipped in purest platinum
• Every rose is presented with its own prestigious PU leather display case
• A true piece of art, our platinum-dipped rose has a glorious reflective finish
• The length of each rose is around 11.5"
• A durable and enduring gift
The ultimate symbol of friendship, love and enduring beauty, a platinum-dipped rose represents a stunning piece of art.
Long believed to be a perfect symbol of romance and true love, roses have long been viewed as a token of devotion in literature and art. Now, The Eternity Rose has combined the rose - a timeless symbol of love, with the enduring precious metal of platinum in a heartfelt and spectacular gift.
No matter whether you are looking for a memorable gift to celebrate the birthday or anniversary of a loved one, or whether you simply wish to express your heartfelt emotions, our platinum-dipped rose is sure to be treasured by its recipient and viewed as a meaningful and thoughtful token of love.
Traditionally, the 20th wedding anniversary has been commemorated with china gifts, but more recently, platinum has become a more modern alternative. What better way of marking this anniversary year than by giving the special couple a lustrous and magnificent platinum-dipped Eternity Rose to represent their love for each other? Treat that special someone with an exquisite gift which blends art and nature in a perfect and flawless flower.
We grow all of the roses in our Eternity Rose collection in our very own nurseries, and each flower has been specially chosen by our qualified horticulturists for their own unique appeal. As soon as each bloom has reached its point of perfection, it is picked by hand, and then embarks on the complex process of platinum dipping in order to preserve its beauty forever.
Over the next 3 months, we electroplate the rose in an intricate and complex procedure that uses a thin copper layer as its base. Due to the texture-sensitive coating, the underlying structures of the flower remain intact even when it is dipped in the precious metal.
Each item undergoes strict quality control procedures to guarantee that it is entirely flawless, therefore we can assure you that each and every platinum dipped flower is free from any defect. Over several weeks, many platinum layers are applied to the surface of the rose, and the final result is a dazzling mirror finish which will never tarnish nor fade with time.
On the other hand, if that special person in your life prefers the luxury of gold, you may prefer to give her one of our striking 24K gold-dipped Eternity Roses which are perfect for all occasions.
Show the depth of your emotions and surprise the love of your life with a spectacular Eternity Rose.